When you visit the coast, particularly on a blustery day, you will feel it in all your senses. Touch – the shrill unforgiving power of the wind pushing your body forward as you walk. Smell – rotting seaweed, dampness, saltiness and sand. Hearing – the whooshing of sharp gusts as they swirl around your head, seagulls calling overhead, waves rhythmically crashing in the distance. Taste – salt on your lips, drops of water on your tongue, grains of sand in your teeth. And, sight – the expanses of grey above and below the horizon, the weight of the clouds, the shimmering surface water, undulating patterns made by waves in the sand and the pebbles underfoot smoothed by years of friction. Are you there now? I hope so. That was my aim.
Before Hobeck, and while working as a freelance editor, I embarked on a part-time degree in fine art and a masters. Both involved an awful lot of reading and even more writing. This took me nine years. For those nine years I became obsessed with one particular aspect of the world and our relationship with it: things. I studied the effect that objects, of all sizes and shapes (from the sea to an iPhone) have on us. We don't exist in isolation; we cannot live without things, organic and inorganic.
Fast forward six months and we are now Hobeck, and have been for a short while. I hadn't really thought about my studies for a few months, putting it all behind me, taking pleasure in my second big love: reading. But then we had a submission that relighted my creative interest. By this point, we had had about thirty submissions (and taken on approximately seven of those). However, for me personally, this new submission stood out in one crucial aspect. We had come across a writer who was able to weave, with his particular choice of words, a sense of the relationship his characters have with their environment: every aspect of it. Here was a writer for whom place was as important as plot. Here it was, that 'sense' of a relationship I had been waxing on about for nine years and that I have tried to create in my own words at the start of this blog, presented in a fictional setting.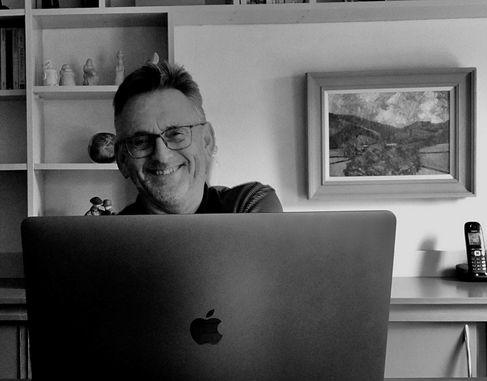 So, dear readers, please let us now introduce you to the unreal yet very real world of Malcolm Hollingdrake. The places of Malcom's writing are real: and his descriptions of them tickle the senses, all of them, which is what good writing should do. The characters are not real, yet they so easily could be. But more importantly, Malcolm's characters blend with their environment, and as a reader you feel that very keenly.
Malcolm was already a writer when he came to us. In fact, he has a well-established series of books set in and around Harrogate: the Harrogate Crime Series. More recently, Malcolm decided to start a new series, this time set around Merseyside: the Merseyside Crime Series. Fortunately for Hobeck, he chose to send his first book in the series to us. We are so glad he did. We felt a sense of loss after finishing the first book. However, there is already a second book to follow the first, and we hope a third, and fourth and more to come.
We are delighted and honoured that we are going to be the publishers to introduce Malcolm's Merseyside to you. So please, prepare your senses, and be prepared to feel the lure of the North-West coast and Merseyside too. You will. I promise.
Rebecca Collins
Author photo credit (c) Gary Barton
Please visit Malcolm's website to find out more about his writing.